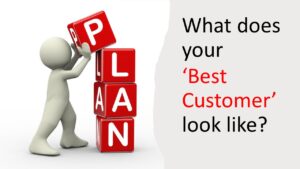 To identify who is your best customer as a vehicle to help promote your specialised services to the right people, is a really important task to carry out. 
Especially if you're looking to carry out marketing activities.
Here's an example of our Best Customer:
Someone who really understands the time and cost value of using our Virtual Administration services.
Feels stressed and under pressure with the amount of admin as they take on more clients.
Someone who sighs at the thought of doing their admin tasks.
Loathes doing their invoices on a weekend or formatting their complex reports late into the evening.
Really needs a Virtual Administrator to keep them on track.
Looking to grow – wants to expand and take on new team members who will all need admin support.
Passes us on to their colleagues – shouts loudly about us!
So tell me, who is your 'Best Customer' – how would you describe them?
If you think this will help towards your marketing activities, give Tracey a call on 07939 935755.