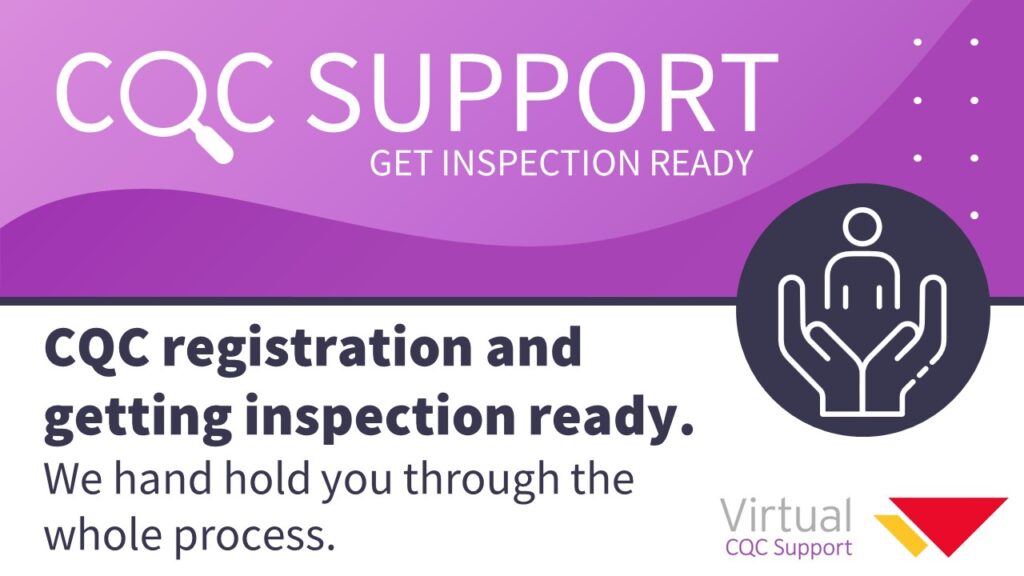 We help case managers and domiciliary care providers become registered with the Care Quality Commission and support them in getting inspection ready.
Registration Process
Navigating your way through the registration process can be a challenge.  We help you by completing the Registered Manager, New Provider and Statement of Purpose documents as part of your registration application to the CQC.  Hand holding you through the submission process and answering any questions the CQC ask following your application.
We provide the additional documents that are required as part of your application, for example, financial viability form, business plan, safeguarding policy, emergency plan, code of governance plus many more.
We have an easy to read 'How to Register and Complete your Application' document that explains everything you need to know about the process, the CQC countersigned DBS check, the Statement of Purpose and all the other documentation the CQC will require as part of your registration application.
Initial Interview   
Generally, around 10 weeks after your CQC submission you will be invited to an initial interview with a regional inspector.  This is usually over a Zoom call which can take around two to three hours.
We will help you get ready for this with the necessary documentation that will be required, including a business continuity plan, service user guide and the fit and proper persons policy.
Take a look at what they will likely request before your Initial Interview – what they call their Provider Information Return (PIR).
We offer Registered Managers one-on-one interview preparation and support. A set of four virtual one hourly sessions tailored to suit your needs and get you ready for CQC Interview.
To find out more about the one-to-one interview preparation, please contact Georgina Turner (Inspired for Health) on 07849 389284 or email info@inspiredforhealth.co.uk.
Getting Inspection Ready   
To help you get Inspection Ready we can provide support with:
Understanding the Key Lines of Enquiry and how everything fits around Safe, Effective, Responsive, Caring and Well Led;
How to evidence all the questions in the Key Lines of Enquiry;
Preparing for the Single Assessment Framework;
Creating your Policies;
Understand your obligations around Statutory Notifications;
Understand the Regulations as part of the Health and Social Care Act 2008;
Putting a GDPR Data Protection Compliancy Action Plan in place;
Review your Recruitment Procedures;
Using our Audit Toolbox to create 12 of the main audit areas;
Looking at your feedback system;
Plus, lots and lots more.
Do you feel confident that your staff would do well if asked questions tomorrow by an inspector, read more here.
Single Assessment Framework
All providers registered with the Care Quality Commission (CQC) will need to be ready for the ambitious change in model to the CQC's new Single Assessment Framework later in the year.
What the new model will involve:
Registration will be the first assessment activity with an ambition to register providers at the rating level of 'good'.
The four ratings (outstanding / good / requires improvement / inadequate) will remain central to the CQC's approach.
The five Key Lines of Enquiry (safe / effective / caring / responsive / well led) will remain central to the CQC's approach.
The six new categories.
A new set of focused quality statements that replace the CQC's existing Key Lines of Enquiry (KLOE's) and ratings characteristics. Instead of the 150 plus questions there will be 34 quality statements instead.
To find more information about the Single Assessment Framework, come along to our webinars.
There's lots to prepare for and knowledge you'll need to have in place, so ask Tracey Clarke for help on 07939 935755 or email tracey@virtual-administration.co.uk
Audits
Part of the process in getting inspection ready, is to ensure audits are carried out, to include all the areas as below:
Care Plan and Risk Assessments
Complaints
Data Protection
Environmental spot checks
Infection Control
Medications Management
Policies and Procedures
Record Keeping
Recruitment Processes
Support Worker Handbook
Technology
Training
We can provide the audit documents for each of the 12 areas above, please get in touch by email tracey@virtual-administration.com or telephone us on 07939 935755 for a further discussion.
Mock Inspection with Georgina Turner at Inspired for Health
Georgina Turner will hand-hold you through a Mock Inspection, dealing with these key areas:
Compliance Audits
Regulation Training
Key Lines of Enquiry
Governance
Policy Improvement
Patient experience
Mock Inspections
Mock Interviews
Quality Analysis and Reporting
To find out more about the Mock Inspections please contact Georgina Turner at Inspired for Health on 07849 389284 or email info@inspiredforhealth.co.uk
---
Testimonials
We have supported over 30 case management companies and domiciliary care providers with their CQC application and process through their initial interview.  See our testimonials below.
I just wanted to say a big thank you for the support you are currently providing regarding the KLOE's and my CQC Registration. Being completely honest, without your support and guidance I am not sure that I would feel confident in completing the process alone, the registration process is quite daunting! Your knowledge and expertise in this area, along with a natural ability to extract the necessary information in a really positive and relaxed manner, makes the process interesting and informative, following each session I feel that I have a much better understanding of the process and I have gained more self confidence, which is great!
It is a pleasure to work with you Tracey, you are always prepared, you go over and above that which is required of you, and you always have a smile, thank you.
Janet Taylor – Case Manager & Registered Manager at PINC Management Limited
---
WE DID IT !!!!!!!
You are Amazing and helped us through this mine field !!!!!
Thank you for very much 😊
Sabrina Dodson – Case Manager and Registered Manager at Care Ltd
---
I would like to let you know and shout about our good news today: Kindred Community Ltd was today awarded its CQC registration, with myself as the Registered Manager. 
We are now CQC registered for the scope of:
Treatment disease disorder and injury

Personal Care 
We want to say we really appreciate all your support to myself and the company and also how we enjoy working with you and the team at Virtual Admin as you know! You always pull what we need out the bag!  So thank you. 
Kathryn Howard  – Case Manager / Counsellor / Clinical Supervisor at Kindred Community Ltd
---
I have been working with Virtual Administration for the past few months in order to register with CQC as a Case Management Company. The services provided are more than professional and very straight forward. Very quick and reliable. Friendly staff and most importantly committed. Basically I couldn't be happier with the services provided.
Emese Negroiu – Registered Manager at Horton Tower 
---
Tracey is currently supporting me through the relative minefield of CQC registration and her support throughout has been wonderful.  She has provided essential practical support by supplying relevant paperwork for me to tweak to my individual situation, has guided me through the process and most significantly she is always available to chat things through and has kept me sane at times of feeling rather overwhelmed!
Anne-Marie Burnett – Case Manager & Registered Manager at Head Smart Rehab Ltd