Webinars
CQC Registration and Getting Ready for Inspection Webinar for Case Managers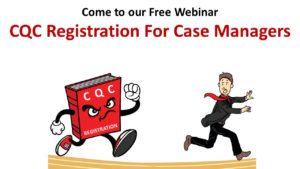 Wednesday 13th May 2020 at 12.00 noon – book here
Wednesday 24th June 2020 at 12.00 noon – book here
This will be an interactive webinar for Case Managers, so you can ask lots of questions.
Find out about the CQC Registration Process for Case Managers – what the application includes.
What to expect at the registration stage and the initial interview for the Registered Manager.
A whistle stop tour of the different areas you need to know and understand ready for your initial inspection, following registration. These will include:
The Key Lines of Enquiry
Regulations
Statutory Notifications
Policies
Audits
Your Recruitment and Training processes
Business Continuity Plan
Plus, lots more…
There is a lot of information to take on board which the CQC website provides.
Our aim is to give you as much information that will help make the process easier to navigate. Making you aware of what documentation you need to have in place, with a view to feeling more confident, prepared and inspection ready.
Business Continuity Planning Webinar for Independent Therapists & Case Managers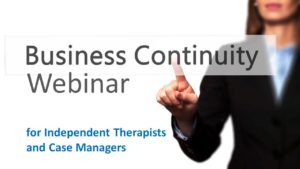 Friday 29th May at 12.00 noon – book here
Friday 19th June at 12.00 noon – book here
Looking at the low risk and high risk assessment of your business operations.
The impact on:
You as a Director, Business Owner
Your team members
Your clients
Communication
IT infrastructure and equipment
Visit and travel restrictions
What to do in a worst case scenario:
The first hour
The first 24 hours
The first 2- 3 days
The first week / month
Looking at your recovery plans and strategies.
Medicines Management – Get Ready for Inspection Webinar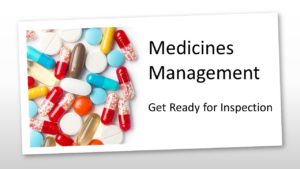 Friday 5th June at 12.00 noon – book here
Presented by Georgina Turner – Inspired for Health
Who should attend: Case Managers, Support Workers, Senior Care Workers.
This will be a 45-minute interactive webinar discussing the CQC inspection process in relation to medicines management Regulation 12-Safe Care and Treatment.
The session will:
Highlight the importance aspects of medicines management compliance including; training, guidance, documentation, MAR chart completion and policies that may be discussed and examined as part of the inspection process.
Discuss what observations may take place and the importance of continued quality improvement.
Provide examples of good and poor practice in medicines management.
About Georgina Turner
Georgina runs her own Healthcare Compliance Consultancy business – 'Inspired for Health' providing mock regulation compliance inspections, cultural reviews and one to one support for adult social care providers.
After completing her Nursing Diploma, Law Degree and Masters She supported CCG's, Community, Foundation & Acute Trusts on a variety of topics including: CQC Compliance with Regulations, Nurse Staffing, Consent, Governance and Quality Monitoring. She currently works as the Healthcare Quality Programme Manager for MIAA Solutions, providing tailor made support with quality experts to a wide variety of health and NHS settings
Georgina has also worked in the NHS as a Risk Manager, Claims and Litigation Manager, Quality Programme Manager, Information Governance Manager, District Nurse and Acute Medical Nurse as well as within Nursing Home and Domiciliary Care settings.
This will be a lively webinar, with an opportunity to ask questions and reflect on current practice. It will be ideal for those who may be involved in a CQC inspection and for all leads in medicines management within adult social care settings.
To find out more information about these webinars, speak to Tracey on 07939 935755 or email tracey@virtual-administration.com.