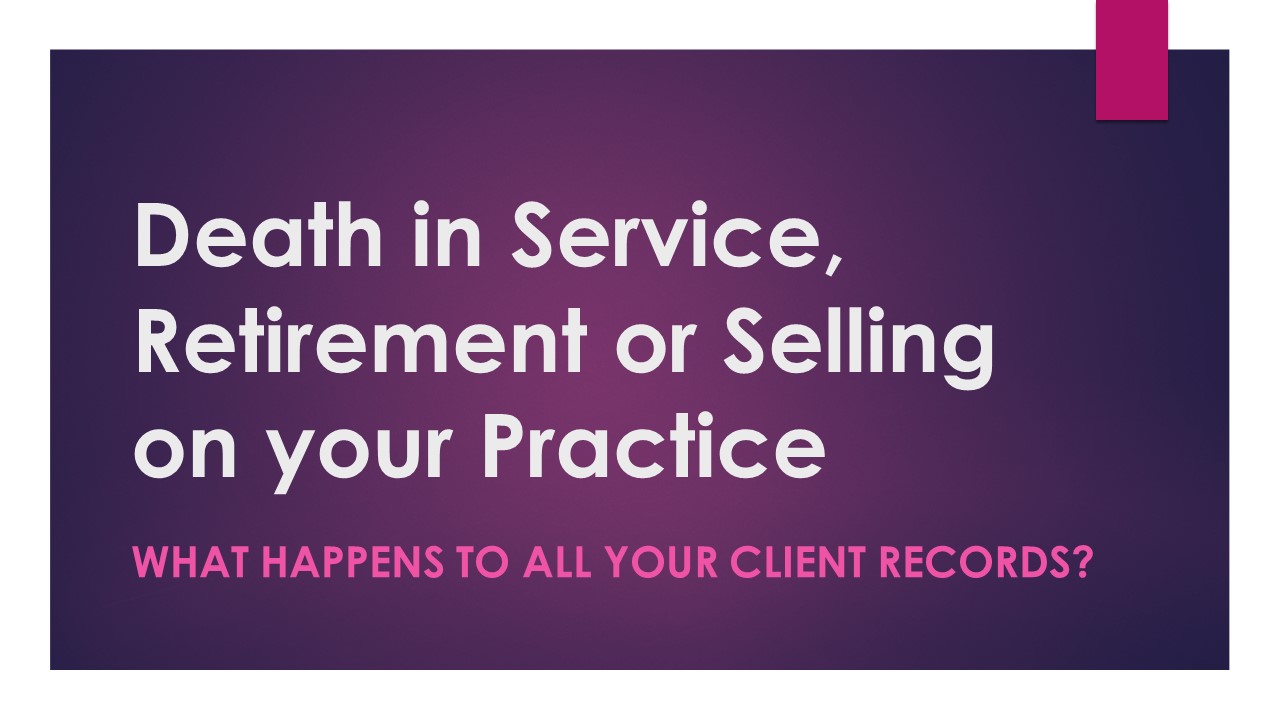 We recently went through the process of updating our Wills and looked at insurance for those 'what if' situations in relation to running our Virtual PA and Secretarial business and who deals with the state of affairs should there be a death in service or if we decided to sell the business in future.  Agreed, it's a bit of a gloomy subject but a most important one.
What if you decide to retire early from running your therapy practice due to ill health, do you have insurance that provides additional run-off cover to protect yourself from any late discovered claims? Do you know what cover to have in place when it comes to selling your practice?
These are questions you need to consider when running a business that collects, processes and stores patient record information.
Many sole trader independent therapists who work from home store their patient record files, those that are archived within the home.  The question is who takes responsibility for this information and documentation should there be a death in service.  Your insurance policy may need to defend an allegation against you in the future, so it's massively important that you know where your records are at any time.
Wills, Power of Attorney arrangements and putting your Estate in order
Balens Insurance has a great article about record keeping and mentions the importance of thinking ahead and appointing someone in your Will, or putting in place a Power of Attorney arrangement should you become ill, disabled or incapable of accessing those important patient records that you have stored securely.
It does suggest that your Will should include information that, should your Estate be challenged after your death, the policy would be called upon to defend it and would be able to do so.
Selling your Practice
As part of their article at Balens Insurance they discuss the selling or transferring of a practice and what you should put in place.  You may pass on the original records, as long as the new owner is subject to the same or similar rules to those referring to case notes.  Most importantly, that the patient(s) of the practice are informed in writing in advance of the transfer and given the opportunity to object, in which event the original records will have to be retained.
It's always worth talking with your professional body about what they can provide.  As an example, the Royal College of Occupational Therapists offers access to insurance cover.
The Chartered Society of Physiotherapists offers insurance cover for physiotherapists, it's always worth asking them about continuous cover when retiring or what happens in a death in service situation.
The Royal College of Speech and Language Therapists offers their insurance cover.
Simply Business offers insurance cover specifically for speech and language therapists.
Blackfriars Group offers insurance for neurologists.
Balens Insurance is an excellent source of information and specialises in providing insurance cover for all independent therapists and case managers.
The Co-Op Legal Services has a good article about how probate works in relation to a deceased business owner.